Where Can I Spend Cryptocurrency: From Pizza to Space Flights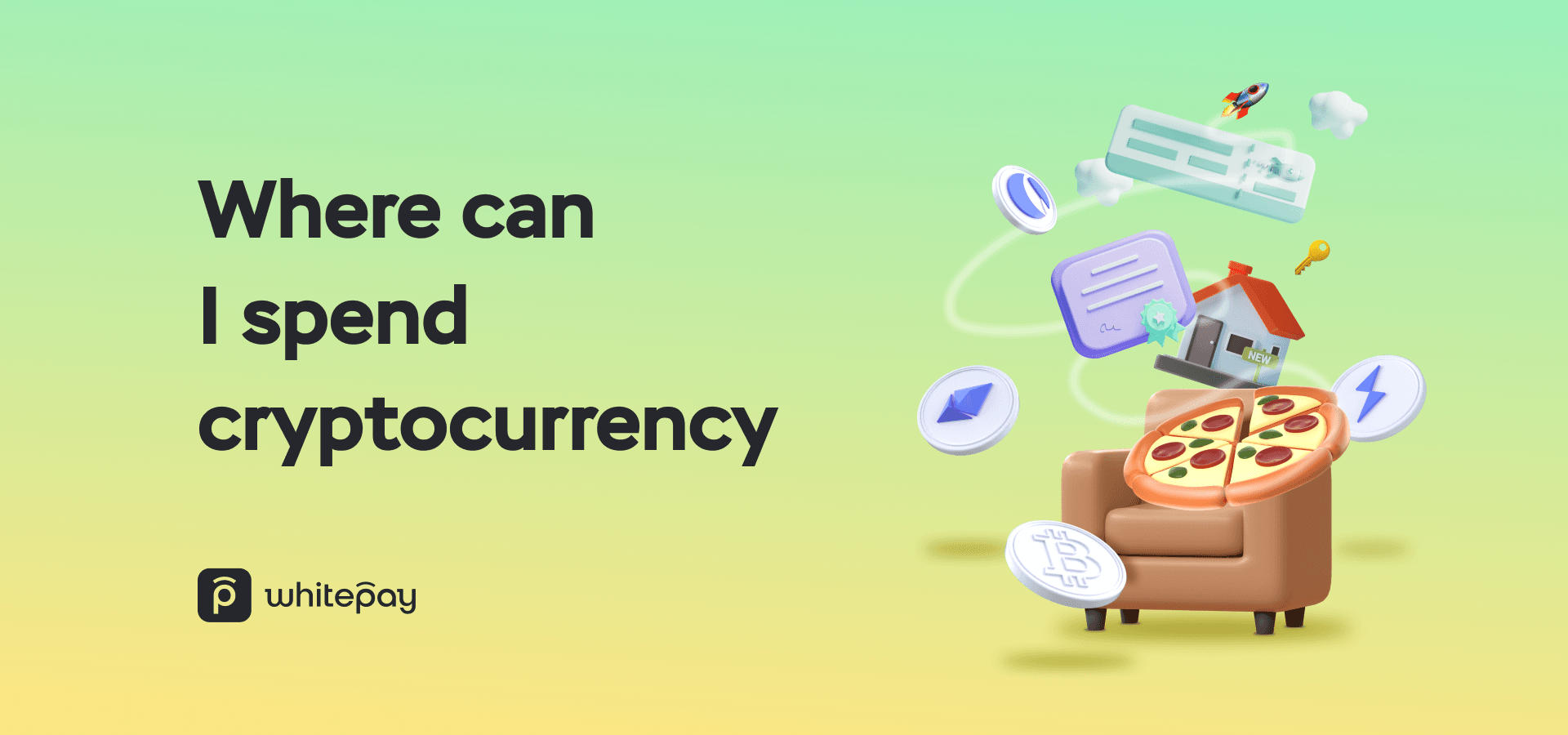 Whitepay makes cryptocurrency payments affordable. But we did not start from scratch. The first crypto payment was made in 2010, and thousands of companies have started accepting Bitcoin and other digital currencies since then. Let's take a look at what exactly you can buy with crypto and where to spend your Bitcoin in 2023. Spoiler: there are many, many options. We are sure that some examples will surprise you!
Where to spend crypto
So, where can I spend cryptocurrency? As the title suggests, there are a lot of options. Let's start with international companies first and then take a look at where to spend cryptocurrency in Ukraine.
Ordering pizza
We've already mentioned that the first crypto payment was made in 2010. If you are not new to the world of crypto, you probably guessed what it is about. Yes, we are talking about the story of buying two pizzas for 10,000 BTC. They must have been very tasty! Since then, many restaurants around the world have started accepting cryptocurrency. Today it's not hard to find where to spend your Bitcoin. For example, at the well-known pizzeria chain, Pizza Hut. With cryptocurrency, you can also buy a gift card that can be used to pay at a restaurant. In some countries that accept crypto (for example, Venezuela), you can even pay directly, bypassing the card.
...or other fast food
Where to spend crypto if you don't like pizza? Another popular fast food brand, Burger King, has also allowed its customers to pay for orders with cryptocurrency in some countries. So far, it works in Germany, the Netherlands, and Venezuela, but it is possible that other countries will be added to the list soon. Other big brands don't stand aside. You can use cryptocurrencies to pay at KFC in Canada (although only as part of a promotion) or McDonald's in the Swiss city of Lugano.
Donating to Wiki
Where can I spend my cryptocurrency if I don't like fast food? What about donating it to Wikipedia, the largest open-source encyclopedia? Yes, it accepts Bitcoin donations. This is a good option if you don't know how to spend crypto. By the way, this is not the only way to donate cryptocurrency to charity. Whitepay has also enabled simple crypto donations to the United24 and Tabletochki foundations.
…or donating to your fave streamer
Twitch, the leading streaming platform, allows you to use a third-party extension to receive donations in BTC and over 50 other cryptocurrencies. YouTube doesn't provide this option yet, but it is possible that it will become possible in the future.
Buying a car
For a short period of time, it was possible to buy a Tesla car for Bitcoins. This option is no longer available, but you can spend crypto money on a Tesla with another coin, DOGE. Yes, this is a strange marketing decision, but Elon Musk thinks that Bitcoin uses too much energy to process transactions compared to DOGE.
Ordering furniture for your home
Overstock, an American online store that sells expensive goods at lower prices, has entered into a partnership agreement with a cryptocurrency exchange to enable blockchain payments for orders. By the way, companies where you can spend cryptocurrency often use third-party solutions to connect crypto acquiring. Whitepay works the same way.
Just imagine that you, being a true crypto enthusiast, drive your crypto-paid car to your crypto-bought house full of crypto-purchased furniture and heat up crypto-paid pizza for dinner. Wait a second… a crypto-bought house?
Purchasing real estate
Yes, that is also possible, however, not in all countries. For example, the first real estate Bitcoin deal in Portugal's history took place in the city of Braga in 2022. The apartment was sold for exactly 3 BTC. And in February 2022, the first sale of NFT real estate took place in Florida. The new owner purchased a four-bedroom house for $653,000. There are also real estate companies that accept Bitcoin.
Buying games, movies, or apps
Where can I spend my cryptocurrency this way? You can deposit crypto to your Microsoft Store balance. These funds can be spent on movies, Xbox games, and Microsoft apps. The fact that such a large corporation as Microsoft has joined the list of companies that accept crypto is very good for the industry.
You can also make crypto payments in some apps. When using a third-party extension, Android and iOS users can purchase apps with cryptocurrency. So far, it doesn't work as easily as paying with fiat, but it still works.
Paying for a university
In some crypto-friendly countries, you can spend your Bitcoins to pay for college or university tuition in cryptocurrency (but only at those specific universities that accept it). Switzerland's University of Lucerne began accepting cryptocurrency at its art and science school back in 2017. Since then, students in Germany, Spain, France, the USA, Great Britain, Vietnam, and Cyprus have had the same opportunity.
Ordering almost any product
Can you buy things with cryptocurrency? Yes, you can! Shopify is an online company that develops software for retail and online stores. Any online store created thanks to their service can add the option of accepting payments in crypto. Today, there are more than 4 million websites around the world that sell various products. Stores that accept cryptocurrency make up a significant portion of them.
Does Amazon accept cryptocurrency? No, it doesn't, but you can still use third-party services to pay for Amazon goods. There is always an option on how to use Bitcoin to buy things.
Flying to another country
You can spend Bitcoins this way thanks to Norwegian Air Shuttle (better known as simply Norwegian). The largest Scandinavian airline accepts payments for flights in cryptocurrency. And this is not the only airline that accepts crypto. Customers of the Latvian company airBaltic have the same opportunity. You can also pay for your entire vacation with Bitcoin, not just plane tickets. This option is available to customers of the popular American online travel agency CheapAir.
…or even flying to space
The British company Virgin Galactic allows you to pay for space travel with Bitcoins. By paying in cryptocurrency, you can reserve a seat on a spaceship that will take you to space. So, if you don't know where to spend crypto, consider becoming a real space tourist.
More options for how to spend crypto
You may think that the list of companies that accept Bitcoin payments is still not that large. It is not true. The complete list contains thousands of companies worldwide. Among them are global brands, local companies, and just small restaurants or shops that accept cryptocurrency. For some businesses, crypto enthusiasts are the target audience. For example, there is a chain of coffee shops in the Czech Republic called BitcoinCoffee.
Most such businesses are working in countries where cryptocurrency is fully legalized, as well as in countries with high inflation, where it is more convenient to use digital currencies instead of the national currency (for example, in Venezuela). A 2020 HSB survey shows that 36% of small and medium-sized businesses in the US accept Bitcoin. Today, this share may be even higher.
Where can I spend Bitcoin in Ukraine
The Whitepay service operates on the Ukrainian market and offers crypto processing and crypto acquiring services to small, medium, and large businesses. In Ukraine, crypto payments were legalized only in 2022, so there's still some catching up to do with the countries where the crypto sector was legalized many years ago. Here are some examples of Ukrainian companies and shops where you can spend your Bitcoin thanks to Whitepay:
The list of companies where you can spend cryptocurrency in Ukraine is constantly expanding, and even now, we are working on providing crypto acquiring to several brands. We aim to make crypto payments as simple and accessible as regular payments in fiat!
We hope that "how do I spend Bitcoin" is no longer a question. As you can see, there are lots of places where to spend your Bitcoin.